18th Service Battalion Warehouses, 1944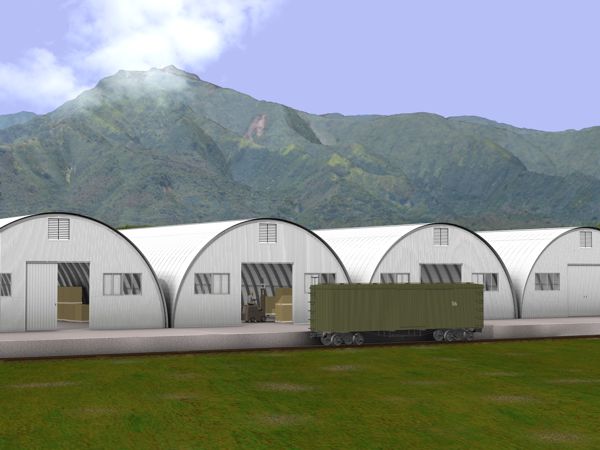 &copy 2018, Alvin F. Kanda
A prominent sight along Kahului Beach Road from the mid 1940's and into the 1980's was a warehouse complex consisting of 40 utility buildings (large version of the quonset hut), four of which are shown above. The buildings had a floor area of 40' x 100' and were shaped like half cylinders. The side facing the beach was serviced by a railroad siding and the opposite side could be serviced by trucks as shown in the map below.

The facility was constructed by the U.S. Navy Construction Battalions 48 and 127 (Seabees) in 1944. The complex was operated by Fleet Marine Force Pacific 2nd Service & Supply Battalion starting in August 1944. The unit was redesignated 18th Service Battalion in June 1945. This was the supply depot for the 4th Marine Division based at Camp Maui. The 18th Service Battalion was deactivated after VJ Day in December 1946.

The buildings were turned over and used by the Kahului Railroad Company until it discontinued its railroad operations in 1965. Various companies used the buildings into the 1980's until the remaining units were moved or demolished.

The southernmost fifteen warehouses would today be on grounds of the Maui Arts & Cultural Center. The rest of the warehouses would today be on a soccer field and Little League diamond of the Keopuolani Regional Park.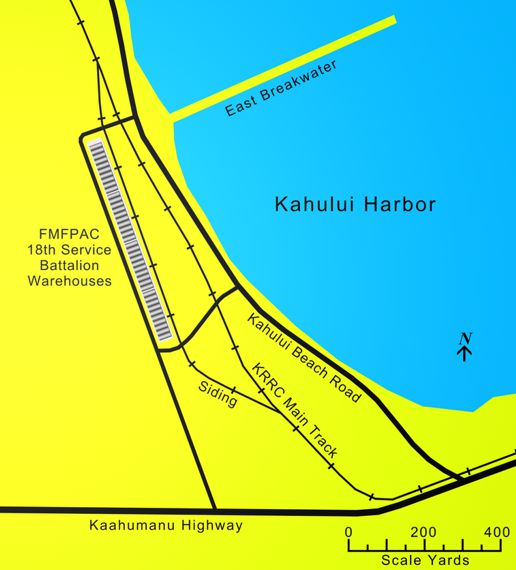 &copy 2017, Alvin F. Kanda

References
"Erection Instructions for the U.S. Navy Steel Arch Rib Utility Buildings" Stran-Steel Div., Great Lakes Steel Corp.
"Building the Navy's Bases in World War II, Volume II", Dept. of the Navy, Bureau of Yards and Docks. Chapter 22
Rottman, G.L., "U.S. Marine Corps World War II Order of Battle: Ground and Air Units in the Pacific War, 1939-1945", Greenwood Publishing Group, 2002. Page 247.
USGS aerial photo of Kahului Harbor dated 1950 (reference #3502).
Contemporary Google Earth image of Kahului Harbor.
Acknowledgements
Reference 4: University of Hawaii at Manoa Library (MAGIS Section)
Links


---
Page revised 7/7/18 by Maui MeshWorks