&copy 2018, Alvin F. Kanda

KNIGHTS OF PYTHIUS CASTLE HALL

In the Spring of 1902, the Aloha Lodge No. 3 of the fraternal organization Knights of Pythias dedicated Castle Hall (what the organization called their halls) on Mill Street near its intersection with Lower Main St. It was a two story building on a 100 ft. by 75 ft. lot. The ground floor was rented to businesses and the 2nd floor was used for lodge meetings and became Wailuku"s "theater" for several years.

The shows reported to have performed or shown at the K. of P. hall: Zamloch the Magician on October 6, 7 and 8 of 1904; film of the 1900 Oberammergau Passion Play on March 2, 1908; Henry French Hallen & Fuller vaudeville show on Sept. 9 and 10 of 1908; Oro Company comedy show on Sept. 25, 1909.

GEM THEATRE

The first mention of the theater was Jan. 30, 1909 stating that movies willl be shown at the Armory. The Hawaii National Guard armory would today be centered on the NE corner of the Maui County Building. Beginning in Feb. 13, 1909 advertisements give a new location on Market Street, Aluli block (location of the Aluli block has not been determined). The advertisements continued until May, 1909.

ORPHEUM THEATRE

In August 1910 it was reported that the Iao Stable Building (owned by Antone Do Rego) on Main Street with a floor area of 100 ft. by 45 ft. was being remodelled to be the Orpheum Theater. The site today is an office building at 2119 Main St.

The owners of the theater were H. B. Weller and John Vasconcellos. Richard Thompson was manager.

The first reported use of the theater was a performance by the Savoy Vaudeville Company in Dec. 1910. Edwin K. Fernandez in Honolulu brought many vaudeville shows to the Orpheum including: hypnotist Castlman, comedienne Miss Montgomery, motorcyclist Bill Eldid & troupe, Hawaiian dancers & singers Kaai, hypnotists Ayesha & Barnett, dancers Odell & Hart, comedienne Miss May Taylor, Chinese magician You Go See, comedy show Wise & Milton, Miss Rader, Heyman sisters, Doric trio, escape artist Cunning, and pyschic Mlle. Edmunds.

Edwin K. Fernandez along with Richard Thompson and James R. Love formed the copartnership "Fernandez Moving Picture Show" which supplied films to the theater. Many of the films were shown following a live show. Today, a third generation of the Fernandez family runs "E. K. Fernandez Shows" which continues to supply the Maui County Fair with rides and entertainment.

The theater had a string of managers. In 1912, P. H. Ross "Pharos" replaced Thompson. Later in the year, E. H. Hart replaced Ross. In 1913, Moses Kauhimahu replaced Hart. Ross returned sometime in 1914 only to be replaced in mid-1915 by J. W. Horsman. Horsman was also manager of the Valley Isle Theater and took over the lease of the Orpheum. In late 1915, the Valley Isle lease expired and the original leaser H. B. Weller secured a new lease on the theater with J. A. Hannon managing. In 1917, Ross returned as manager but resigned in mid-1918. W. F. Wallace who managed the Lyceum in Kahului took over only to resign after about two months. Mrs. P. H. Ross became the new manager and after about three months was replaced by Honolulu jockey Johnnie Carroll.

The theater also had a string of closures. The one in 1913 was due to management problems. A six month closure in 1915 was for major improvements: raised ceiling to allow larger screen, increased number of seats and installation of an electric generator. A two month closure in 1917 was for repairs and improvements. In early December 1919 the theater was closed for safety reasons: rotted support posts and weak roof trusses. With temporary repairs, it was opened for five months in 1920 to cover for the closure of the Hippodrome. The Orpheum reopened in late 1921.

MAUI THEATRE

On Nov. 16, 1912 it was revealed that Joe Leal and Wailuku residents J. H. Kunewa and J. N. K. Keola were interested in opening a movies-only theater on the NW corner of Main and Market streets. Plans called for using the existing building with major alterations, among which was raising the roof eight feet.

It was reported in Dec. 1912 that the theater was doing well with standing room only on Saturdays.

Improvements made in August 1913: sloping floor with a four foot rise from from to rear, a balcony and a larger stage.

The theater was absorbed by the Valley Isle Theatre when it opened in January 1915.

VALLEY ISLE THEATRE

On June 20, 1914 plans for a new theater on Market St. were announced. Unlike previous theaters which used existing buildings, this was to be a new building designed by Honolulu architectual company Emory & Webb. Joel C. Cohen of Honolulu was identified as the originator with locals owning the majority of the stock. Mr. Cohen was president and manger of Consolidated Amusement Co., Ltd. and also operated a motion picture exchange.

Officers:
   President, Frank Medeiros
   Vice-President, M. J. Moura
   Treasurer, B.J. Guerrero
   Secretary, A. K. Stender
   Directors, J. C. Cohen, A. F. Costa, M. T. Lyons
   Manager, M. T. Lyons
   Auditor, A. F. Costa

To reduce competion, the owners of the Maui Theater (J.H. Kunewa and J.N.K. Keola) were offfered stock in Valley Isle Theatre in exhange for their theater.

In May 1915, J.W. Horsman became manager, followed by J.H. Kunewa in July 1915 and J.N.K. Keola in October 1915. The troubled theater was sold in a forced mortgage forclosure sale in February 1917. The buyer was Mrs. Ned Nicholas who was the part owner of the property on which the theater stood.

The theater was then leased to Weller & Vasconcellos Amusement Enterprises who operated the Orpheum on Main Street and the Lyceum in Kahului. The theater was then reopened in May 1917 as the Hippodrome Theater.

HIPPODROME THEATER

The theater was open three nights a week with "stock" pictures while its sister theater Orpheum showed feature films. When the Orpheum was closed in Dec. 1919, the "Hip" showed the Orpheum features.

The theater was closed for five months in 1920 for major renovations: addition of a balcony with 250 seats, ventilation improvement, adding emergency exits and refinishing the front with stucco.

MAP SHOWING WAILUKU THEATERS - 1914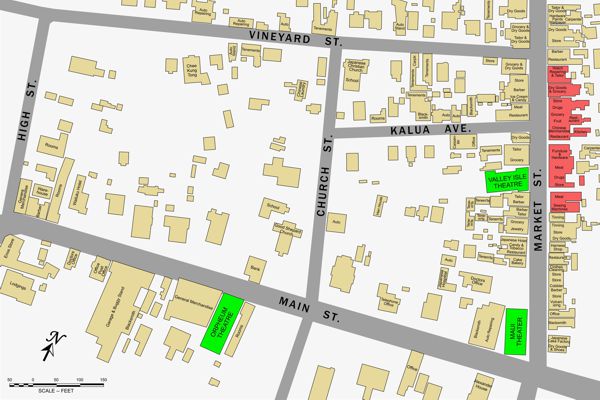 &copy 2018, Alvin F. Kanda





The map is based on the very detailed fire insurance maps of Wailuku by the Sanborn Map Company. The large unmarked buildings are residences and the smaller unmarked buildings are storage sheds. Note that Kalua Ave. today is Pili St. and Vineyard St. today extends east of Market St.

The theaters are shown in green. Note that the Maui Theater was absorbed by Valley Isle so the map showing both occured for only a short transition period. In 1917 Valley Isle became the Hippodrome.

The buildings shown in red were destroyed by fire on Dec. 12, 1926 and the Iao Theater was constructed in the area.


References
The Maui News, July 13, 1901, pg. 3, col. 1
The Maui News, March 29, 1902, pg. 3, col. 2
The Maui News, Sept. 24, 1904, pg. 6, col. 4
The Maui News, Feb. 29, 1908, pg. 5, col. 1
The Maui News, Sept. 5, 1908, pg. 5, col. 3; adv. pg. 1, col. 5
The Maui News, Jan. 30, 1909, pg. 2, col. 5; pg. 6, col. 1
The Maui News, Sept. 25, 1909, pg. 2, col. 1
The Maui News, Aug. 13, 1910, pg. 2, col. 4
The Maui News, Dec. 17, 1910, pg. 5, col. 1
The Maui News, Nov. 16, 1912, pg. 1, col. 5
The Maui News, June 20, 1914, pg. 1, col. 6
The Maui News, Dec. 12, 1914, pg. 5, col. 4
The Maui News, Jan. 9, 1915, pg. 3, col. 4
The Maui News, Dec. 12, 1926, pg. 1, col. 1
Acknowledgements
Sanborn Map Company. Wailuku, 1914, Sheets 3, 4, 5 and 6