Hamakuapoko Radio Beacon, 1927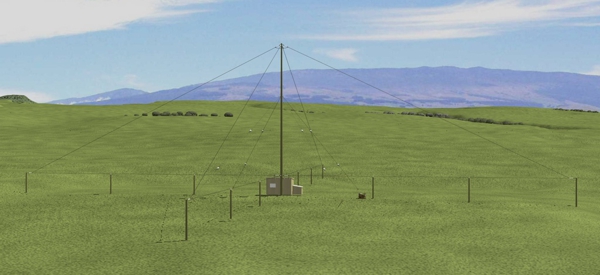 &copy 2019, Alvin F. Kanda
This scene can be described by a direct quotation from reference 1:

"Up at Hamakuapoko, near the Maui High School, a ways back from the government road, can be seen a small building with the high pole that indicates a radio outfit nearby. It is hardly more than a small shack but it may play an important part in aviation flights to the Islands and in the future of aviation."

The government road is today Holomua Road. The antenna system pictured and the radio transmitter in the shack worked in conjunction with a similar station near San Franciso (see map below) to give an aircraft equipped with a radio receiver the ability to follow the course between the stations based on the audio signal provided by the system.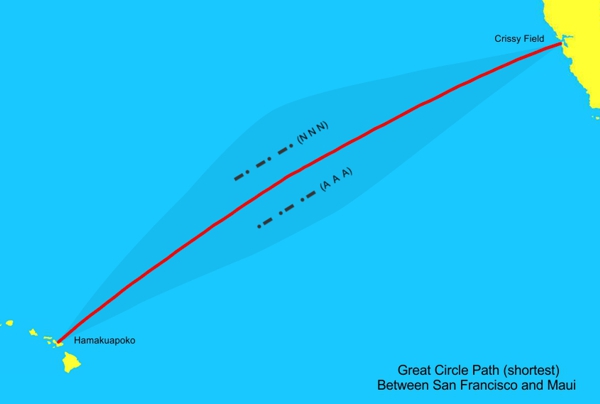 Note: The darker blue shading indicates where the beacon signals could be heard.

If the pilot was off course north of the path he would hear a series of N's in Morse Code as demonsrated in the audio clip below:



If the pilot was on course he would hear a continuous tone:



If the pilot was off course south of the path he would hear a series of A's in Morse Code:



Beacon Background Information.
Beacon Chronology.
Beacon Technical Information.

References
Maui News, June 22, 1927, page 1 col. 6
Maui News, June 29, 1927, page 1 col. 1
Shangraw, C. C. " Radio Beacons for Transpacific Flights". Proc. Inst. Radio Eng., vol. 16 (1928): 1203–1235


---
Page created 1/28/19 by Maui MeshWorks