S.S. Maui, 1899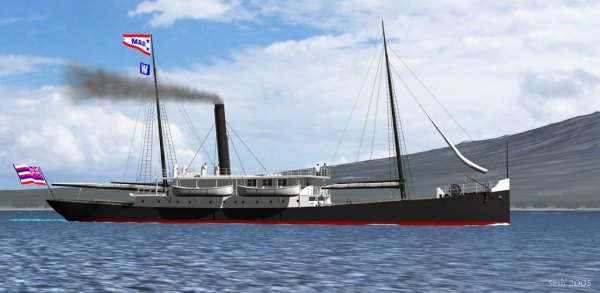 &copy 2005, Alvin F. Kanda
Wilder's Steamship Company's S.S. Maui in 1899 in Alalakeiki Channel bound for Mahukona after a stop at Maalaea Bay.

The S.S. Maui was a replacement for the wooden S.S. Likelike sunk in 1897. Scanning the shipping columns in the 1900 and 1901 issues of Maui News shows she made occasional calls to Kahului but was used mostly on the Oahu-Hawaii run via leeward Maui landings.

When Wilder's Steamship Company merged with Inter-Island Steam Navigation Company in 1905, the S.S. Maui was used mostly on the Oahu-Kauai run.

S.S. Maui was built in 1898 by Union Iron Works of San Francisco. Her tonnage was 620 gross and 393 net. She had a length of 171 feet, breadth of 30.2 feet, depth of 14.4 feet and was powered by a three-cylinder triple expansion steam engine.

She was on a special trip to Hawaii in 1917 when she struck a reef at Makalowaena in a Kona storm. The ship was loaded with 10,300 bags of sugar picked up at Mahukona and was headed to pick up cattle in Kailua when she encountered the storm. The sugar was a total loss and salvage attempts failed.


References
Thomas, "Schooner from Windward", Univ. of Hawaii Press, Pages 86, 87, 130, 208
Rogers, "Shipwrecks of Hawaii", Pilialoha Publishing, Page 70
USGS 1 degree digital elevation map of Maui SE

---
Page revised 1/21/17 by Maui MeshWorks